What defines a craft spirit and a craft distillery are questions we find in ubiquity lately. In order to arrive at some kind of answer we commonly consider components such as ingredients, stills and production volume. However, one area we frequently overlook is the distiller him/herself. What makes one an artisan, or not? The intention may be there initially but is there follow through? The words that I believe integral to a craft distiller are passion, integrity and transparency.
Since starting my event CRAFT, which connects artisan spirits and beer producers with the trade and public in an educational program of tastings and seminars, I have come to know and visited many distilleries and met many distillers. Some have these three qualities, some not quite yet and some never will it seems. On my recent inaugural visit to Balcones Distilling in Waco, Texas, I was further convinced that Chip Tate (founder, head distiller, owner) and his team are the embodiment of passion, integrity and transparency.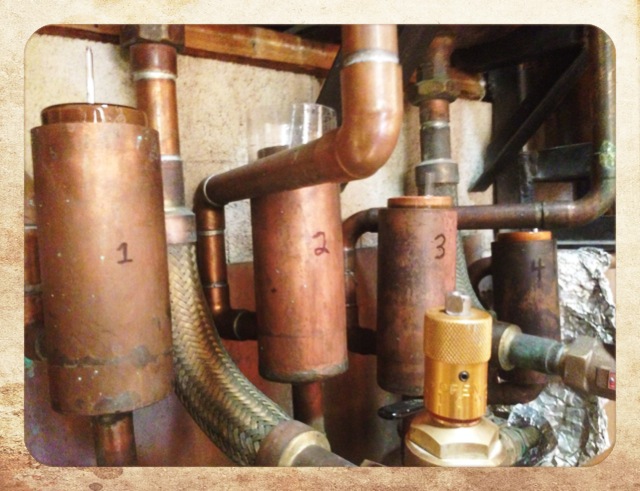 I met Chip a few years ago when I had just started putting together my business plan for CRAFT. He was in Miami for an RNDC craft distillers' road show that Scott McKee had organized for RNDC. A friend had suggested I meet Chip and taste through his portfolio of artisanal spirits, predominantly American whiskies. After almost an hour of tasting and talking, I realized I had met a deeply passionate distiller and a very bright man. Since then, and not surprisingly, I have watched Balcones' grow, its reputation rise and be the recipient of numerous national and international top spirit and whiskey awards.
Balcones Distilling is tucked under an overpass in Waco's historic, warehouse district. There is no pomp and circumstance to the distillery, no visitors' center or fancy tasting room; this is a hard-working, high-functioning distillery with about 15 employees. In about 2000 sf, they produce their own spirits, by hand, from grain to glass using four copper pot stills (two 500g wash stills and two 250g fermenting stills) that they themselves built, which is neither easy nor recommended but surely admirable. Over their 5+ years in operation, they have developed 4 unique spirits across 8 expressions, mostly whiskies, that are painstakingly nurtured by Chip himself, Jared Himstedt the production manager and Winston Churchill Edwards the brand ambassador. All stages, from grain selection and fermentation to distillation, barrel ageing and blending are executed or overseen by this geek squad and it was great for me to spend a day at the distillery observing, chatting and tasting. In fact, what fascinated me most that day wasn't only the fact that Chip has the CO2 output indicator set to play Beethoven's Moonlight Sonata when it gets too high, but rather being included in one of the weekly tasting sessions for blending where Chip, Jared and Winston taste over 100 barrel samples of, in this case, the Malt Whiskey, to carefully select which are ready and which need more barrel time. It really gave me added insight and appreciation into the art of making good whiskey.
With the growing popularity of starting a craft distillery, we are seeing new ones open every month all over the continent. This is a great movement that brings individuality and personality to the spirits industry. I support the artisan over the behemoth producer for this reason. However, it's hard to say at this point how many will succeed and how many won't. Surely the Three-Tier system doesn't help but additionally, egregious sourcing and lack of transparency may possibly be the Achilles heel of some distilleries. I hope fledgling distilleries will look to the more developed and successful for guidance and remember that passion, integrity and transparency are key components. However, this all comes down to people and the choices they make. Who a craft distiller is really gives rise to what a craft distillery will produce and how it will be produced.
Thanks for reading and comments/questions are always welcome.